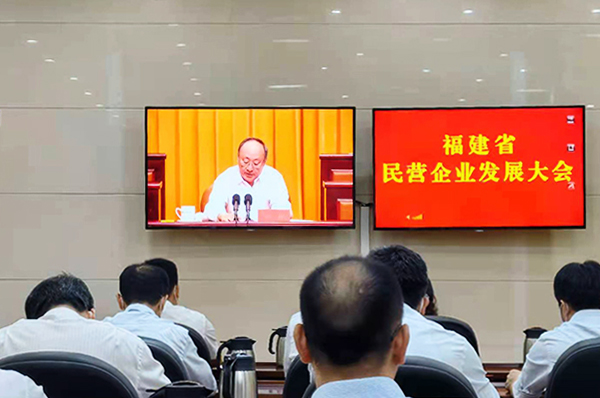 On June 22, the Development Conference of Fujian private enterprises was held in Fuzhou. Other cities, counties (districts) and Pingtan comprehensive experimental area set up sub venues to participate in the form of video, and more than 1200 enterprises representatives participated in the main venue and sub venues. Yin Li, Secretary of the Provincial Party Committee, attended and spoke at the conference, while Wang Ning, governor of the Province, presided over the conference. As an outstanding representative in the field of overheating protection, Zhangzhou Aupo Electronics was invited to participate in the conference.
Under new situation of "domestic and international double cycle", private enterprises are the key momentum to promote supply side structural reform, promote high-quality development and build a modern economic system. The conference aims to create a strong atmosphere for encouraging, supporting and promoting the development of private enterprises, promoting entrepreneurship, promoting the healthy development of private economy, and encouraging private enterprises to play a greater role in promoting the high-quality development beyond all-round.
As a member of Zhangzhou industrial enterprise, Aupo Electronics has been focusing on the field of overheating protection since its inception, and is currently the leading enterprise in the field of overheating protection in the world. In recent years, the company has increased its investment in resources, promoting automation, information transformation, optimized cost, improving efficiency, broadening product application, and constantly enhancing the comprehensive competitiveness of enterprises in the market. It conforms to the current national forward-looking layout and the current domestic and foreign new situation.
Aupo Electronics will continue to thoroughly implement the spirit of General Secretary Xi Jinping's important speech during visit to Fujian, bearing in mind the service consciousness of "customer oriented" and uphold the spirit of "pragmatic, efficient, innovative and rigorous". Aupo will take the social responsibilities bravely and achieve high quality development of enterprises around the strategic target of "global benchmarking enterprises in the field of overheating protection".
---